Help Organize Your Books via Innovative Book Collection Software
Monday, 21 April 2008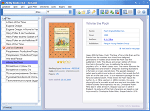 I have thousands of books in my room – I love reading and mostly I collect books which are motivational and provide me with business knowledge. Over the years, I manage to compile all these books as I believe it has given me so many benefits to help me start my online business.

I believe a book cataloger software would definitely help you in your book collection efforts. It is easy to use and you can definitely use it to help you catalog and find your books for reference later.

In fact, you can find this software called All My Books from BolideSoft.com/ allmybooks.html – I'm sure you'll be happy with what this software can do for you.

For more information, visit the website! Cheers!



Subscribe to this comment's feed